At Bentley Atlanta, we strive to provide the best luxury vehicle service experience possible. Whether it's regularly scheduled maintenance or a necessary repair, you can rest assured knowing that we will take meticulous care of your vehicle. Our technicians are factory trained and have access to Bentley-specific diagnostic tools, something that independent repair shops can't say. In fact, we have two Bentley Master Technicians and one Bentley Certified Technician. Together, they have over 60+ years of combined Bentley service and parts experience. It's safe to say they know your Bentley inside and out!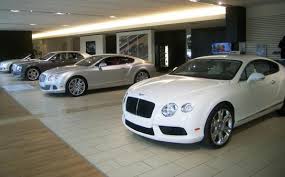 When it's time for service or repair on your vehicle, it's important to use Original Equipment Manufacturer (OEM) parts. These parts are designed specifically for your vehicle and match what was on your vehicle when it was originally built. At Bentley Atlanta, we use only Bentley OEM parts to ensure that your vehicle runs in peak condition. Independent shops will often use aftermarket parts to save money. While this might seem like a good deal at the time, generic parts are not specifically designed for your Bentley. Using incorrect parts can cause additional issues and often lead to more costly repairs down the line. It's also worth noting that our shop features factory-provided tools and lifts unique to Bentley service that other shops may not have. The best part? Bentley OEM parts are covered by a 2-year warranty, so you can enjoy a piece of mind on your repairs.
Convenient Service | Pick-Up & Delivery
We know that time is valuable and sometimes getting your car to the dealership can be a hassle. Our goal is to make service as easy and stress-free as possible. That's why Bentley Atlanta is proud to provide multiple convenient options for our customers.
Whichever convenient option you choose, we strive to return your vehicle to you in better condition than when it arrived and will take great care during transportation. If you're interested in any of the above services, please contact our service department. You can also learn more about vehicle transportation services.
Visit our website to schedule your next service appointment today!