Bentley has long been the pure embodiment of luxury. Whenever you see a Bentley logo, you know you're seeing the highest quality product possible. Usually you only expect that to apply to cars, but not anymore. Introducing the Bentley Centenary Opus, an 800-page book celebrating the century-long history of Bentley Motors filled with everything you need to know about the brand's history of performance, design, and craftsmanship.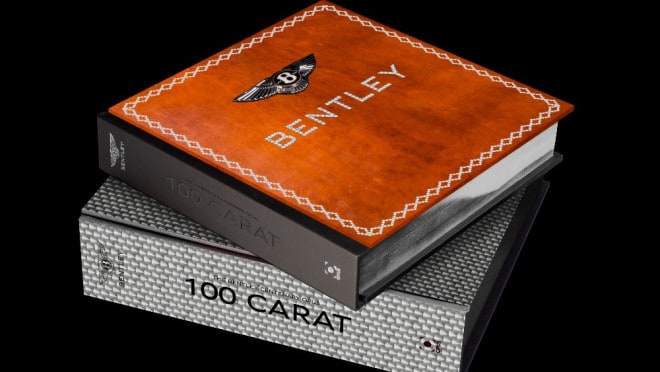 What makes this book so specials? Well, if you know anything about Bentley, you should know that a book with the Bentley logo on it won't be anything like a normal book. The Bentley Centenary Opus comes with up to 100 carats of diamonds and weighing nearly 66 pounds! As you would expect, it's also HUGE. When opened, the book stretches to 3.3 feet and can fold out to over 6 feet wide. The book is also bound with genuine Bentley leather and sports the Bentley logo on the front cover.
Aside from the exorbitant luxury, there is also a ton of interesting information and collector's items that any car-lover will appreciate. In addition to the 800 pages on Bentley past, present, and future, there is also a Foreward written by Ralph Lauren and a special chapter by Bentley CEO Adrian Hallmark about what to expect from Bentley in the next few years. The Mulliner Edition of the book provides prized Polaroid photos of some of the most significant and influential Bentley models of the past, as well as 56 handpainted watercolors. With the purchase of the book, you also get rubber directly from the tires of the 2003 race car the won the 24 Hours of Le Mans.
The Bentley Centenary Opus is available now and ranges in cost from $3,000 to $250,000. But act fast because only a very limited number are available.