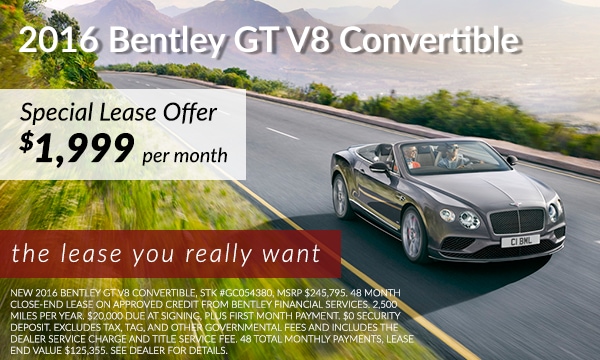 Refined Luxury
The dominant bonnet line, prominent matrix grille and twin large inner headlamps confirm its pedigree, but the Continental GT V8 Convertible has its own distinct character - one that exudes refined luxury.

To simpy call this car a convertible understates its capability. It is both a sensational open tourer when the weather permits and a supremely comfortable year-round drive, as accoustically and thermally well insulated as a coupé, thanks to its unique, four layer roof.

The new Continental GT V8 Convertible takes open top comfort to new levels and, with the roof down, lets you enjoy the V8's exquisite mechanical symphony in full surround sound.

For a limited time, we're offering a great Bentley lease special on the 2016 GT V8 Convertible, right in time for the beautiful spring weather quickly approaching. Schedule a test drive and visit Bentley Atlanta today!

Learn More: GT V8 Convertible Offer
* Indicates a required field