Interested in purchasing the new Bentayga? Bentley Atlanta has a demo available for test drive! Give us a call or use the form on this page to inquire about Bentayga, schedule a test drive, or order yours today. Not located in Atlanta? No problem. We sell out-of-state and offer many different vehicle transportation options for our customers (click here to learn more).
Introducing the Bentley Bentayga
The world is full of extraordinary places. Bentayga has been designed to take you to them. For more than 95 years, Bentley has created exceptional automobiles in constant pursuit of the exquisite, the powerful and the individual. And now today's line-up of the pinnacle Mulsanne, the luxurious Flying Spur sedan and the powerful Continental range is joined by our redefining of the SUV, Bentayga. Bentley's SUV takes the class to a new level. Imposing and capable, Bentayga has been conceived and crafted to open up a realm of luxury and performance previously unattainable in an SUV.

With a vast range of options and opportunities to personalize, together with ground-breaking technology that opens up new experiences, it is as unique as it is unexpected. With innovation at its heart, it displays unprecedented power, speed and efficiency, setting new standards in the SUV sector. Wherever Bentayga takes you, it will help you see it through new eyes.
Bentayga Performance
The New W12 Engine
Launched with Bentayga, the all-new Bentley W12 petrol engine with Variable Displacement is the most technologically advanced 12-cylinder in the world. A ground-up redesign delivers the best combination of power, torque and efficiency in any SUV. Every part of the engine has been redesigned for performance and efficiency, with the first combination of direct-injection and port-injection technologies in a production engine from Bentley. It switches seamlessly between the two to deliver the most efficient performance.
Bentayga Speed and Power
Bentayga is extraordinarily powerful, taking you from a standing start to 60 mph in 4.0 seconds (0-100 km/h 4.1 seconds), with a top speed of 187 mph (301 km/h). But it's not all unadulterated speed. The design of the twin turbochargers has been optimized to deliver better performance and efficiency than ever before. And Bentayga is more than capable of putting its torque to work in other practical ways. The new W12 engine delivers 5-90% torque within 1.1 seconds, twice as fast as its predecessor. This also helps Bentayga operate perfectly in all off-road conditions, at lateral and longitudinal angles of up to 35°.
Bentayga Economy
Obsessive attention to detail of the design of many components ensures the new W12 delivers class-leading economy. Switchable oil and water pumps only run when required, reducing the load on the engine. Stop-Start technology is available for the first time on a Bentley.
Learn More About Bentayga
* Indicates a required field
This technology not only rests the engine when it is stationary, but also at near-stop speeds. Improved engine management systems allow microsecond monitoring to enhance performance and reduce emissions.
Drive Dynamics Mode
The power to take on the planet's most challenging surfaces is at your fingertips in the Bentayga. Drive Dynamics Mode offers the smoothest of rides, over the toughest of environments, with absolute confidence and total control. Switch between four settings - Comfort, Sport, Custom and Bentley - using an intuitive rotary control.

Drive Dynamics makes choosing the right mode for your mood or conditions simple. Comfort mode gives you the optimum balance between comfort and performance; Sport mode delivers a performance driving experience and Bentley mode is optimized to give the most refined and comfortable driving experience. If you want to personalize the settings to suit your driving style, simply select Custom mode.
Bentley Dynamic Ride
Bentayga features the first 48V electronic Active Roll Control in any car for exceptional response times. As the vehicle goes into a corner, the system automatically minimizes body roll. The Active Roll Control delivers automatic individual wheel control over bumpy surfaces to improve ride comfort. Improved body control and chassis response make handling easier giving you added confidence in any on-road conditions. Off-road,Bentley Dynamic Ride increases axle articulation for improved grip and greater comfort levels.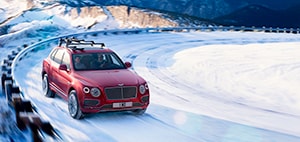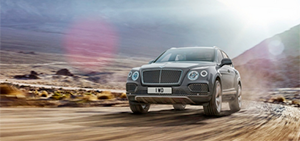 Bentayga Design
Exterior Design
Bentayga features an intelligent mix of materials, with an advanced aluminum exterior, covering a structure that blends aluminum castings with a high-strength steel. Each curve and line is defined by our signature sharp lines and seamless surfaces. This is particularly noticeable in the front wings where an innovative superforming technique creates the muscular powerline that runs the length of the flank and over the wheel arch.

This innovative approach also allows the fully adaptive LED lamps, with integrated washers, to fit flush to the body, creating the striking impression that they are floating in the bodywork. Extensive brightware and optional 22" fully-forged and machined aluminum wheels - the largest ever created for a production Bentley - add a further level of eye-catching detail.
Interior Design
Handcrafted in Crewe by our experts, the interior of Bentayga is elegant and refined, finished with the most exquisite materials. Easily visible from outside the vehicle, the quilted shoulders echo the compact squares and fine tailoring of classic shooting jackets, giving a tantalizing glimpse of the craftsmanship that awaits inside. The cockpit architecture is based on double Bentley wings, giving it balance and symmetry, with a unique sense of calm. The beautiful wood veneers are carefully selected, cut and matched to create a seamless flow of high-gloss wood around the entire interior. Solid metal detailing with precision finishes add another dimension. The whole cabin is flooded with light from the panoramic roof, adding to the sense of space, comfort and luxury.
Mulliner Driving Specification
Mulliner is our specialist coachbuilding department. Their aim is to take one of our cars and go beyond personalization, using unrivaled craftsmanship to produce a bespoke model.

With Bentayga, the Mulliner Driving Specification interior, designed at the Bentley factory in Crewe, is included. Featuring iconic quilting on the seats and doors, with drilled sports pedals and a Jewel Filler Cap it adds Mulliner's sporting heritage to an already extraordinary vehicle.
Color and Choice
Bentayga offers a choice of more paints, leathers and veneers than any other SUV. You can choose from a portfolio of our most popular exterior colors. There are also fifteen interior leather colors that give you the opportunity to personalize the cabin of your Bentayga. Plus, seven veneers offer a choice of a traditional or contemporary finish, highlighted by a pinstripe on the fascia that adds an exceptional level of detail to the interior.

You may also choose from an extended range of 90 colors, as well as our bespoke color matching service. Bentayga Bronze exterior paint - exclusive to the SUV at launch, is available as part of our extended range. It was chosen for its intrinsic beauty and long association with famous luxury brands.
Bentayga Technology
Audio
The Naim for Bentley audio system takes in-car music playback to another level, immersing you in sound. Driven by a 1950 watt amplifier, it is the most powerful audio system available in an SUV. The twenty speakers include nine combined mid-range and tweeters and a 300 watt sub-woofer. A pair of super tweeters extends the high frequencies, giving the system the widest frequency range ever experienced in a car.
Entertainment
Passengers will find plenty to keep them occupied in the rear seats of Bentayga, whether they are enjoying the view as the world glides by or exploring the many infotainment options. The rear headrests feature two 10.2" entertainment tablets that connect you with the vehicle's entertainment systems. With the convenience of a mobile tablet, you can tap into everything the car's infotainment system has to offer, or lose yourself in your own world with the Bluetooth headphones. The tablets can also be used as fully functional handheld devices whether you're in or out of the car. An impressive array of features includes internal memory, micro SD and USB slots.
Connectivity
Bentayga can go anywhere, but thanks to a 4G Wi-Fi hotspot, you can stay connected to the wider world. Bentayga can integrate your iPhone through Apple CarPlay . This technology instantly connects your smartphone to the vehicle so you can play music, navigate to your next destination, take calls and access apps easily and safely.
Driver Assistance
Bentayga features more than ten new Driver Assistance systems for urban driving, longer distance touring and more robust off-roading. Head-up display, where important information is projected onto the windscreen so the driver can keep eyes on the road. Night Vision can recognize animals and people, however dark it is outside. Along with Blind Spot Assist and Traffic Sign Recognition, all of these technologies are born of 'intelligent functionality'. All are seamlessly integrated into the car's design with a focus on enhancing and perfecting the driver experience. Its hi-tech display systems, built-in cameras and sensor-based driver assistance technologies create the feeling that you are not just in the landscape. You are part of it.
Touchscreen Technology
You can configure the 8" Touchscreen to display key information of your choice, like the home screen on your smartphone. Frequently used menus are easily accessed, along with hard keys that operate the radio, navigation, media and telephone. The Touch Screen Remote, located in the rear centre console of Bentayga allows passengers to control the main infotainment systems, including radio, and media, along with seat functions including massage settings and rear climate control.
Navigation
Bentayga's Navigation system is enhanced by Online Real Time Traffic Information (RTTI), which provides a live view of current traffic conditions. A red, amber and green color code is overlaid on the maps to deliver a clear and immediate view of potential traffic issues. Google Earth and Street View use data streamed directly from Google, which is then displayed onto the 8" screen. POI search uses the Google database to find local points of interest.
Bentayga Specifications
All-Terrain Specification
Bentayga is highly capable both on and off-road. The All-Terrain Specification enhances its already impressive capabilities to inspire complete confidence with total control in any situation. The Drive Dynamics Mode with Responsive Off-Road settings adds four additional modes. Two are specifically designed for off-road - Mud & Trail and Sand modes. The others give improved performance on Dirt and Gravel and Snow, Ice and Wet Grass. You can go off-road with complete peace of mind in Bentayga - the sump camera lets you continually check for obstacles immediately in front of you and underfloor protection safeguards key components from potential damage.

Clear, relevant and functional additional driver information is always on display when you are off-road. A compass tells you where you are headed and the altimeter tells you how far you've climbed above sea level. At a glance, you can understand the steering angle and wheel articulation of all four wheels. Drive Dynamics Mode information is highlighted along with the vehicle pitch and vehicle suspension ride height. Bentayga will feature Bentley's unique air-suspension with four ride heights; Low, Normal, High 1 and High 2.
City Specification
This specification adapts Bentayga to be as effective and safe in the city as it is in the wild. All these special features are new to Bentley, making the shortest trips as comfortable and easy as the longest journeys. Park Assist automatically detects suitable parking spaces and takes full steering control to make parking simple. The Top View Camera combines views from the front, rear and side cameras to give a birds-eye view that makes it easy to maneuver in tight spaces. Traffic sign recognition identifies speed limits and other traffic signs and displays them for the driver. You can set the excess speed limits so, for example, you hear an acoustic warning if you go over the speed limit by 6 mph (10km/h).

The City Safeguard and Pedestrian warning automatically detects potential collisions with other vehicles, or if a person steps into the vehicle's path, and applies emergency braking if necessary to help avoid collisions. Reversing Traffic Warning monitors blind spots to alert you to potential collisions with vehicles, motorcycles or cyclists when crossing behind.
Touring Specification
Our Touring Specification is designed to make you feel safe and in control on long journeys. All of these systems, apart from Adaptive Cruise Control (ACC), are new to Bentley. Each feature has been created to take the pressure off you on long drives, automatically adjusting and warning you if there is a potential problem. So if you lose concentration on the motorway, Lane Assist recognizes when you start to drift and automatically adjusts the steering while leaving you in control at all times.

The Adaptive Cruise Control will keep Bentayga cruising at a fixed pre-set speed. Long-range sensors measure a specified time gap to the car in front. It has a number of features that add to your safety and comfort including Stop & Go, Dynamic Distance Monitor, Corner Speed Assist and Speed Limit Assist. Stop & Go brings you to a controlled halt if the traffic ahead stops and the restarts if the traffic moves within three seconds.

Traffic Assist brings Lane Assist and the ACC into play together when you are in slow moving heavy traffic. Bentley Safeguard Plus includes Emergency Lane Change Assist and Intersection Assist. The system intervenes if there is a potential for a frontal collision, preparing Bentayga for a safe full emergency stop if required.

Advanced Night Vision features cutting edge technology that can recognize potential hazards. It gives you vital early warnings so you have time to avoid collisions with animals or people. The Head-Up Display makes driving even safer. It projects key information on the windscreen directly in the your field of vision, so you can keep your eyes on the road more of the time.